Serving our community since 1943
Vermilion Credit Union was created in 1943 as Vermilion Savings and Credit Union and in 1996 changed its name to Vermilion Credit Union Ltd.  We continued to grow, opening our Mannville Branch in September of 2003. We have operated out of a number of locations around our town and have been in our new "home" since 1995.  
Members are owners which makes it highly motivating for us to help them achieve financial success right here at home. Unlike traditional banks, our member-owners are rewarded by their belief in us, not by their account balance.
What's Important to Us? As a credit union, we are a cooperative organization and run our business based on cooperative principles. Take a look below at our mission, vision, and values, as well as the cooperative principles.  
Our History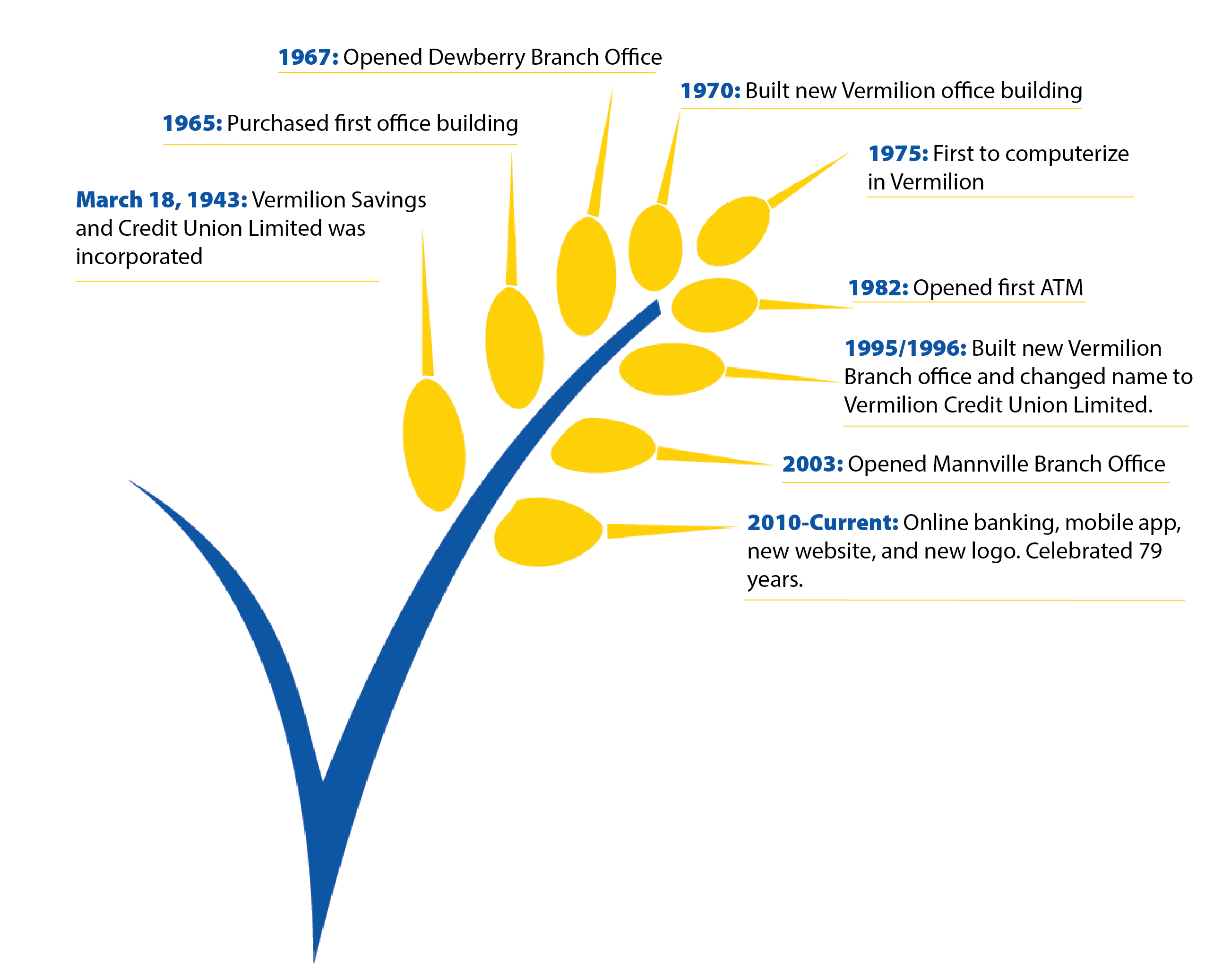 1943
March 18, 1943: Vermilion Savings and Credit Union Limited was incorporated
11 individuals made first purchases of $5 shares
Entrance fee of 25 cents
May deposit in sums of not less than $1.00
First General Meeting was held on March 29, 1943.
Interest Rate is 1% per month
Maximum amount of individual loan is $35
The following were elected:
Directors: Roy Walker, E.K. Glidden, Florent Van Wageningen (President), George Martin (Vice President), Rufus Amnes
Credit Committee: C.M. Laverty, E.H. Buckingham, Roy Walker
Supervisors: H.B. Evans, M.G. Brinacombe, JR Robson (provisional secretary treasurer)
1965
In 1965 we purchased our first office building. VSCU purchased the present Monte's Men's Wear location from Dr. C.W. Stephens for $8,500. It was a small but owned office. Tom Lysons was the Manager at the time.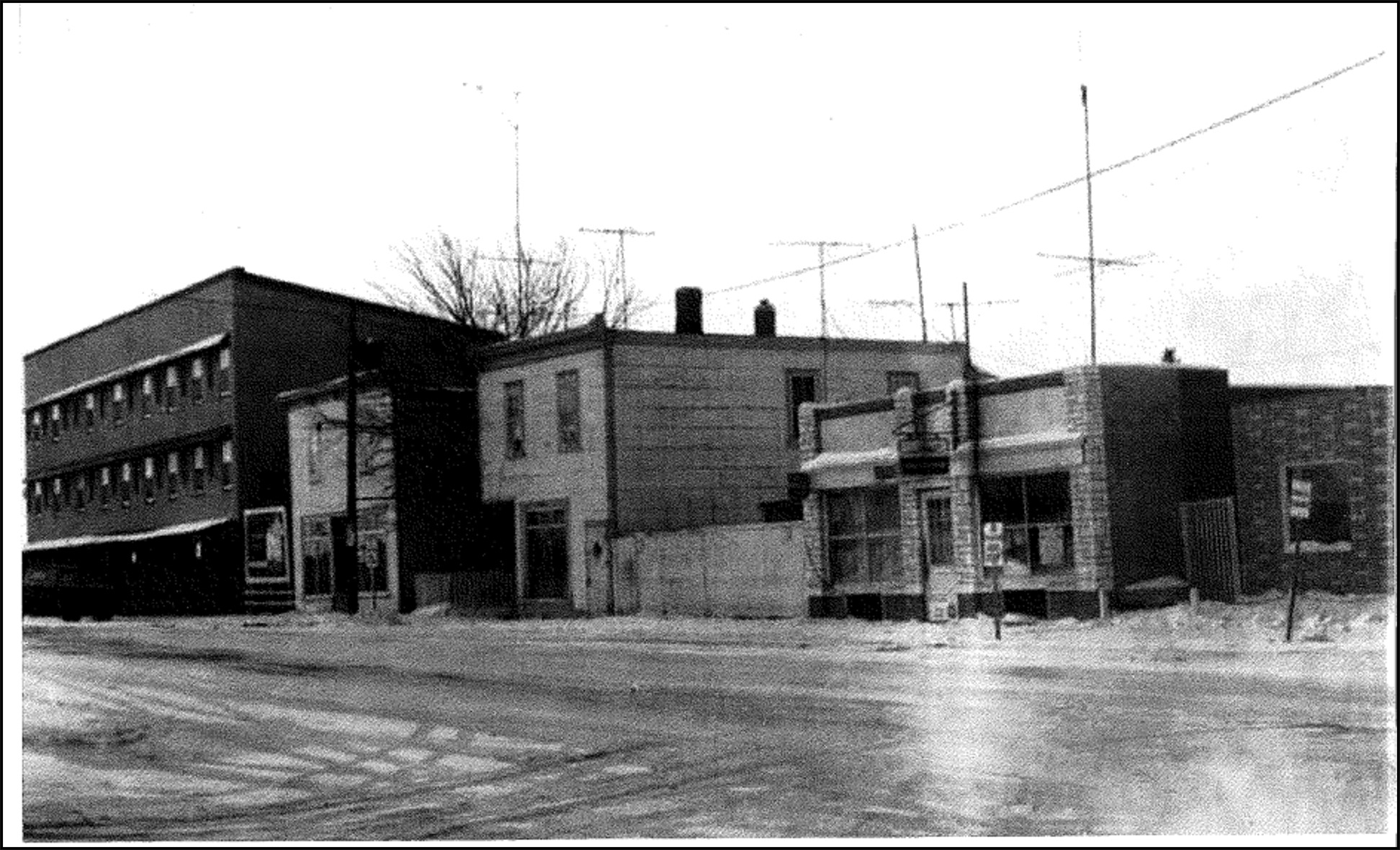 1967
In 1967 VSCU opened a new Branch office in Dewberry. George Heath was the Branch Manager.
Later that year we purchased a new building for the Dewberry Branch Office
Later that year we hired a part time employee in Dewberry and a full-time employee in Vermilion (brings total staff up to 6 employees now)
Hired Marshall Harvey as Assistant Branch Manager in Vermilion
1970
February 14, 1970, was the grand opening of the new Vermilion Branch office. Bought the land in 1969 and built a new Branch office. A true individual building designed to our own specifications – construction bid was $61,326.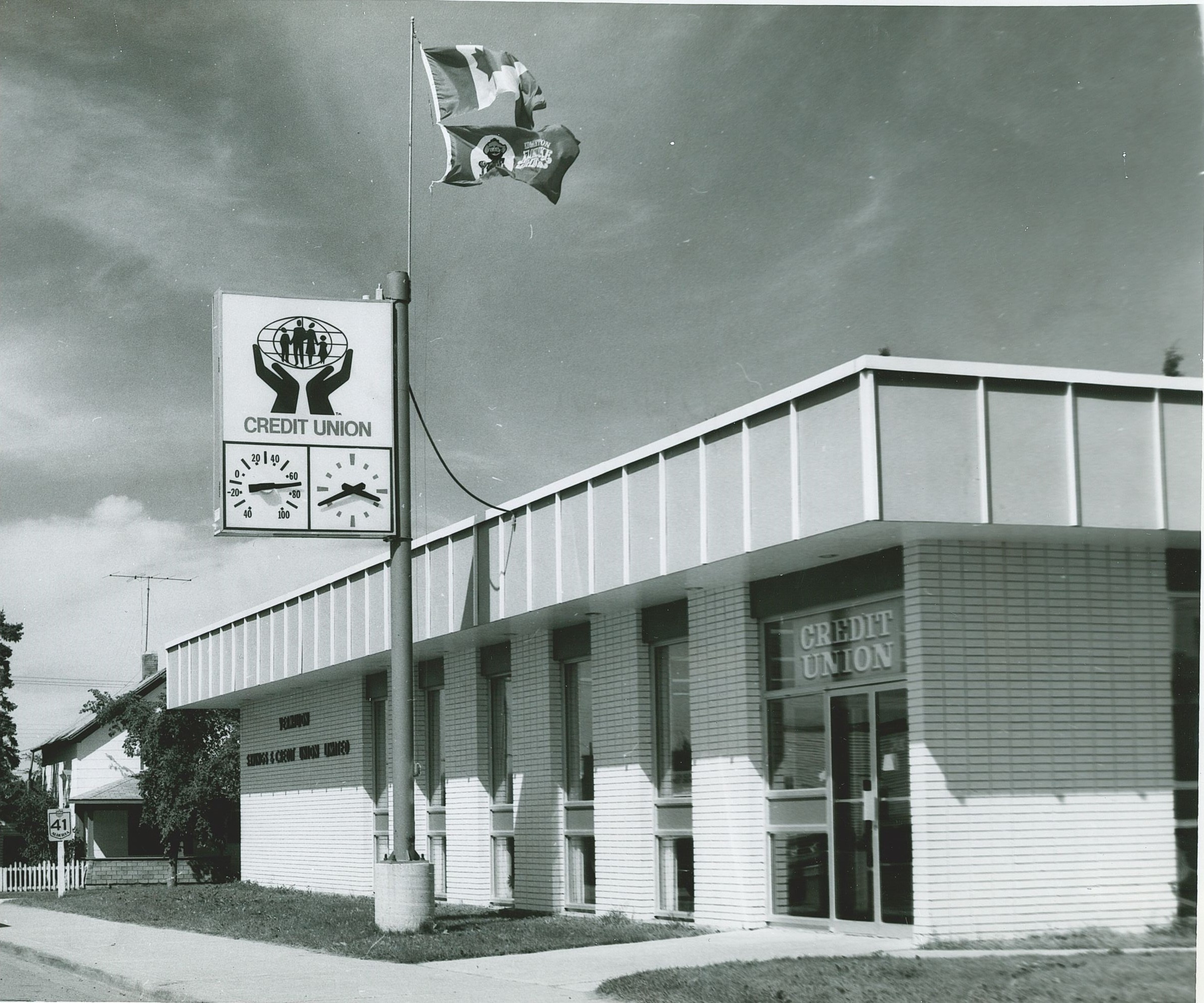 1975
Vermilion Savings and Credit Union computerized with NCR terminals and was the first institution in Vermilion to do this.
1982
The first automated teller was installed in Vermilion.
1996
In the Fall of 1995, construction began on our now existing building. In June 1996 we moved into the new building. On June 10, 1996, we changed our name to Vermilion Credit Union Limited.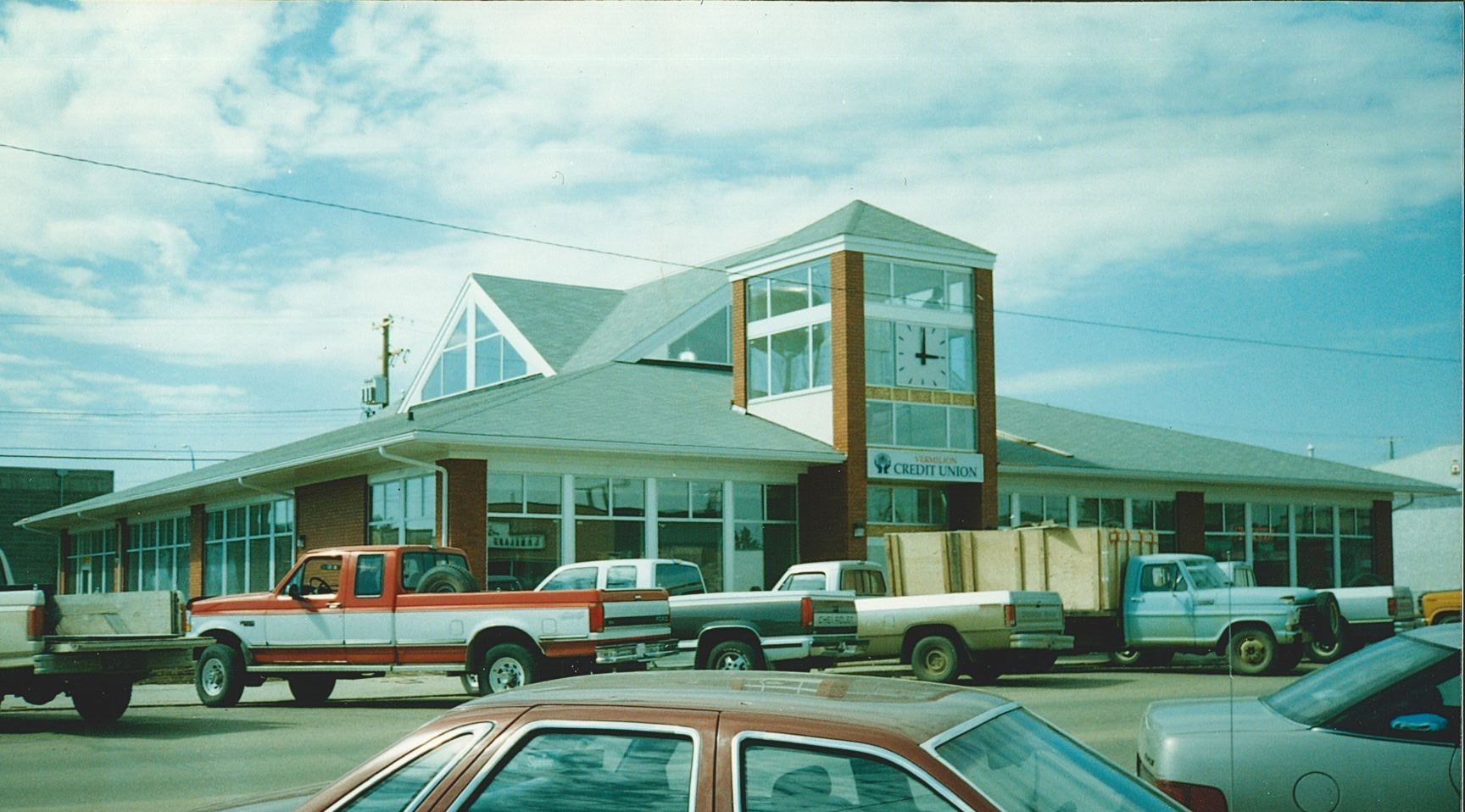 2003
Vermilion Credit Union opened a Mannville Branch office.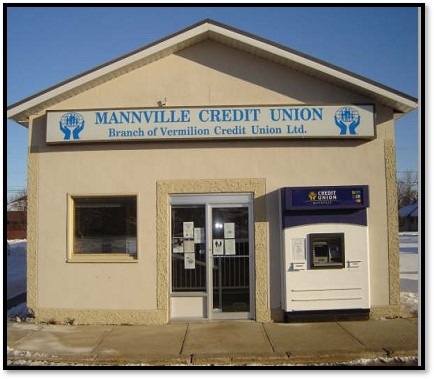 2010 - Current
Many technology changes occurred, and our brand logo was updated. We updated the logos twice, created a new website, updated the website, and created a new mobile app.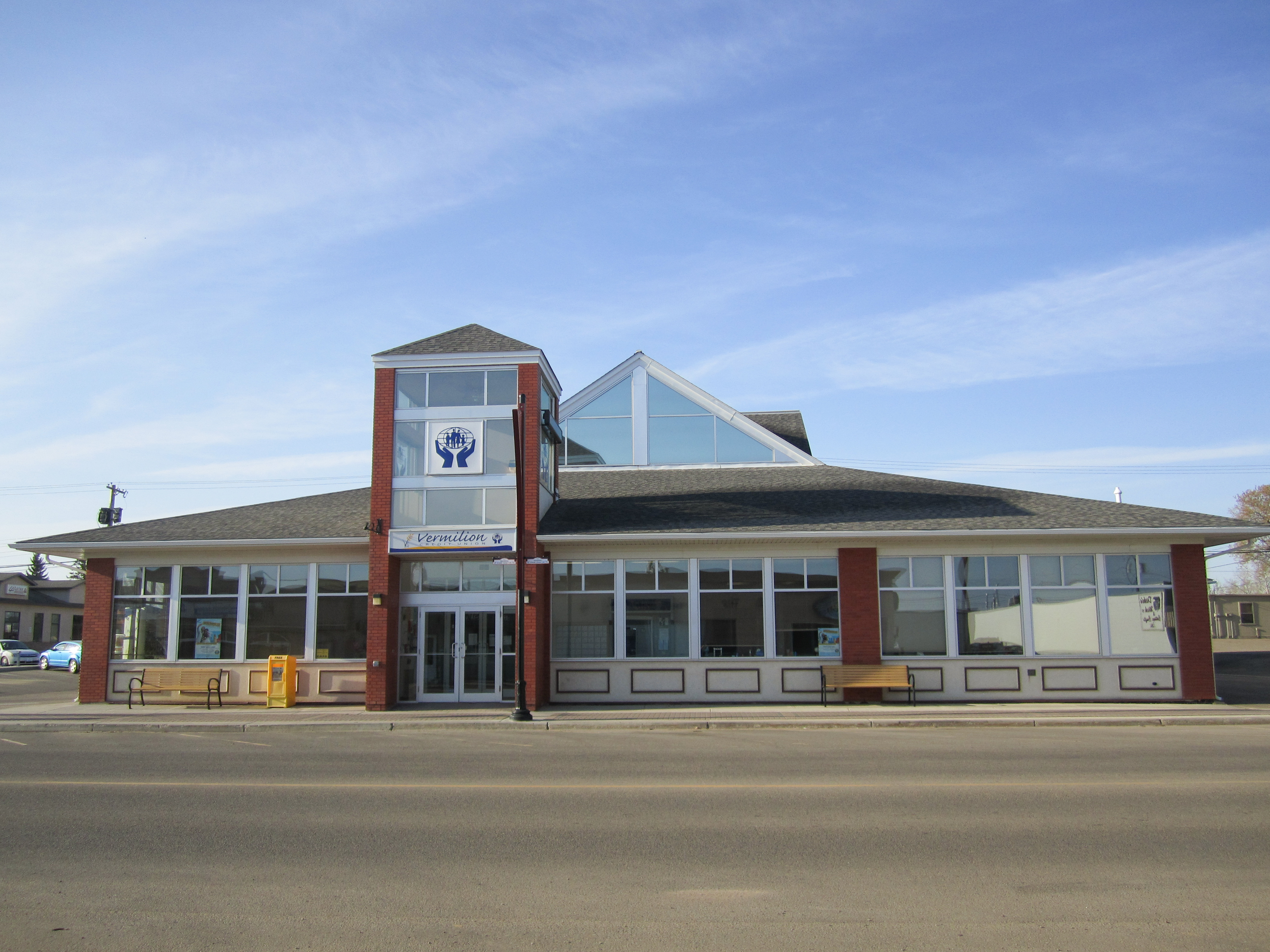 Mission
Our mission is to provide a full range of financial services, delivered professionally at a fair price, that supports our members and communities in building their financial security.  
Vision
Through continued innovation, VCU will be the financial institution of choice and a recognized leader in our community.
Vermilion Credit Union will be guided by the following values:
Cooperative principles are the basis of our operating principles.
We will be supportive of our community.
We will treat our members and our employees with compassion.
We will adhere to an ethical business philosophy.
We will conduct our business in a fair and equitable manner.
At our credit union we value:
Community
Cooperative Principles
Open & Voluntary Membership
Democratic Member Control
Member Economic Participation
Autonomy & Independence
Ongoing Education
Co-operation Among Co-operatives
Concern for Community
Access your accounts quickly using the links below: